We may earn money or products from the companies mentioned in this post.
The popular a buy 2, get 1 FREE sale on kids' books, games & activity kits is back at Amazon! We found a ton of fun books marked down to 40-50% off. All of these items would make excellent Easter basket fillers. Amazon always has this deal whenever Target has their buy 2, get 1 FREE sale. Below you'll find a deal scenario on Harry Potter Illustrated books to show you the savings and peek at some of the great options from this sale.


Harry Potter and the Sorcerer's Stone (1) $23.22 (reg $39.99)
Harry Potter and the Chamber of Secrets (2) $23.70 (reg $39.99)
Harry Potter and the Prisoner of Azkaban (3) $20.19 (reg $39.99)
Buy 2, get 1 FREE (-$20.19)
Final Price = $15.64 each

If you have any Harry Potter fans in your home you can save nearly 60% on Harry Potter and the Goblet of Fire: The Illustrated Edition (Book 4), it's $21.52 (reg $47.99).
You can save 40% on It's Better Being a Bunny and pick this up for $6.
The highly rated The Wonderful Things You Will Be is over 50% off and $8.55 (reg $17.99).
Save over 50% on Dragons Love Tacos and pick this up for $8.95 (reg $18.99).
Save nearly 50% on The Day the Crayons Quit, it's $8.95 (reg $17.99).
Another board book I highly recommend is Guess How Much I Love You, it's $4.62 (reg $8.99).
If you have little ones, you can save over 40% on the Bob Books, Set 1: Beginning Readers. Pick this set up for $10.19 (reg $17.99).
The Brain Quest Workbook, Grade 2, is over 50% off and $5.95 (reg $12.95). You can check out all of the Brain Quest workbooks mark down.
Harry Potter fans can grab The Unofficial Harry Potter Cookbook for only $9.99. You are saving 50%!
You can save 50% on How to Catch a Unicorn and grab this for $5.49.
I highly recommend this board book If Animals Kissed Good Night, it's only $3.35 and a great one for the little ones. I like to keep board books on hand for when baby showers pop up. I always pick up a couple when then are priced great because I gift them with every baby gift I give.
If your kid loves the Dog Man Books you can get the Cat Kid Comic Club for only $7.20.
The Creativity for Kids Mini Garden: Dinosaur Terrarium is nearly 30% off and priced at $7.80.
How cool is this Creativity for Kids Sensory Bin: Construction Zone Playset? It's nearly 40% off and $15.99.
Pick up the Kinetic Sand, Sandbox Playset with 1lb of Purple and 3 Molds for $8.99.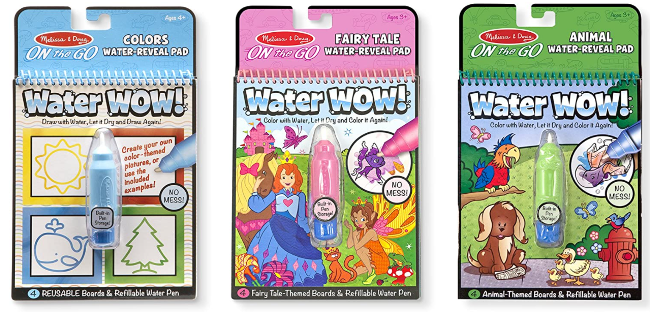 The Melissa & Doug On the Go Water Wow! Reusable Water-Reveal Activity Pads would be fun to put in Easter baskets. Pick this set up for $12.99.
Speaking of Melissa and Doug, the Melissa & Doug Farm Animals Sound Puzzle is only $9.99.
The Sushi Go! The Pick and Pass Card Game is a family fave! It's only $6.29.
You can't go wrong with Taco Cat Goat Cheese Pizza, it's a ton of fun and $9.99.
Save nearly 40% on the MONOPOLY Animal Crossing New Horizons Edition Board Game, it's $17.79.