We may earn money or products from the companies mentioned in this post.
Here are some of the best deals we found for Amazon!! You will always find the newest deals at the top of the list. Keep in mind that Amazon prices can change at anytime, all of these prices were valid when posted. Make sure you double check the price before you make your purchase. If you don't see a coupon that we mention, it could be that the coupon is no longer valid or that you already used it at one point, most Amazon coupons are one-time only.
New Deals
The super deal on the Funko Pop! Funkoverse Harry Potter Strategy Game is back! Get this for only $13.48. We own this one and we love it!
Another fun game we found at a nice price is the Qwixx A Fast Family Dice Game, it's only $7.95.
Amazon dropped the pre-order price on Dog Man: Grime and Punishment, order this for $9.71. This will be released on September 1st. My kids got a kick out of all of the Dog Man books!
If you have a kiddo that is interested in drawing this How to Draw Cute Stuff would be a fun resource. It's $6.44 and teaches kids how to draw everything from people, animals and lot of other fun things.
There is a nice discount the LEGO Amazing Vehicles, it's $10.89. This comes with 61 bricks so kids can build four exclusive LEGO mini vehicles.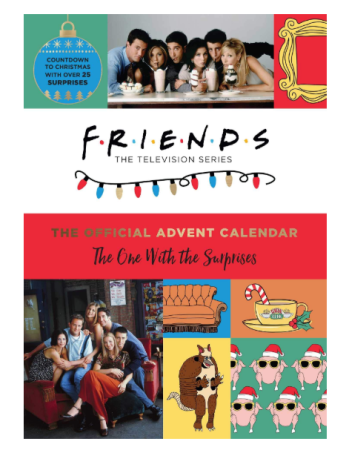 Friends fans! Don't miss this super deal! You can pre-order the Friends: The Official Advent Calendar for $18.23. This fun calendar is filled with 25 days of surprises and includes over 40 keepsakes, ornaments and more. this will be released on October 27th.
There is a sweet price on the highly rated Revlon One-Step Hair Dryer And Volumizer Hot Air Brush, it's $41.98 and gets TONS and TONS of great reviews!
If you want to stock up on beauty items you can save $5 when you buy 3 select beauty and personal care products. You can save on St. Ives, Neutrogena, Garnier and more.
The 3 lb bag of Tree Hut Detoxifying Mediterranean Salt Soak isn't part of the special beauty promotion but you can get this for $4.48 with Subscribe and Save.
There is a new deal where you can save $10 when you spend $40 on select household items. This deal includes popular brands, Mrs. Meyers, Tide, Finish, Ziploc and many more.
This 9 Herb Indoor Organic Herb Window Garden Growing Kit looks really neat. It's nearly 30% off and priced at $29.74. This set includes 40 pieces that will help you grow herbs easily.
I have all of my kitchen drawers and cabinets lined with this Gorilla Grip Original Drawer and Shelf Liner and I love it! Pick up a 12 inch x 20 Ft roll for $16.99.
This Set of 3 Whitmor Color Coded Zippered Mesh Wash Bags are really convenient for washing delicates or even face masks. Pick up this set for $4.49.
Pick up two big boxes of Pepperidge Farm Goldfish Cheddar Crackers (30 oz. Per Box) for $9.62. This works out to $4.81 per box.
Grab a 12-pack of Nature's Bakery Whole Wheat Fig Bars in Raspberry for $5.08 when you choose Subscribe and Save. These are my fave!
The Melissa & Doug Car Carrier Truck & Cars Wooden Toy Set is nearly 40% off and only $12.10. You really can't go wrong with any Melissa & Doug toy!
2020 Advent Calendars
You can pre-order the brand new Funko Harry Potter 2020 Advent Calendar for $39.96 (reg $59.99). This calendar will be released on October 15th.
The Nightmare Before Christmas: Pop-Up Book and Advent Calendar (2020) looks really cool! Pre-order this for $35.99. The release date for this calendar is September 29th.
This advent calendar is perfect for kids! Pre-order the Disney Storybook Collection Advent Calendar for $19.93. Disney fans will enjoy 24 small paperback books that will make for a fun bedtime story! This will be release on October 6th.
We found a super cool Funko Spooky 13-Day Advent Calendar you can pre-order. You can order this Halloween countdown calendar for $25.97. This fun calendar includes 13 Funko Pocket Pop! sized figures and will be released on August 21st.
Clothing & Accessories
You can get a funny Women's "Thats A Horrible Idea What Time?" Tee for $15.99. This comes in several pretty colors.
How cute is this Avocado AirPods case? It's only $4.97 and would make a super cute gift!
I think this Jack Skellington AirPods Case is super cool! This case glows in the dark and is priced at only $6.97.
This pack of 20 Fashion Pearl Hair Clips would be fun for a tween or a teen. Get this set for $8.99.
Home Decor
Clip the $2.00 coupon to get a set of 3 Solid Wood Floating Shelves for $12.99. These would look good in a living room, bedroom, office or even a bathroom.
Kitchen
I've been looking into kitchen organization and I am thinking this is the way I want to go with my spices once my kitchen is all remodeled. I really like this Lynk Professional Spice Rack Tray, it would be a great way to keep all of my spices organized.
You can grab a 24-pack of Glass Spice 4 oz Jars/Bottles for $28.99. This set includes 612 Spice Labels and a Silicone Collapsible Funnel and gets lots of great reviews.
I love the look of this Eco-Friendly Granite Nonstick Frying Pan 3-Piece Set, it's really pretty and gets tons of good reviews!
Pick up a set of 6 Spring Chef Heavy Duty Stainless Steel Measuring Spoons + Leveler for $12.47. These get over 5,000 reviews.
If you like the KitchenAid brand, you can get a set of 5 KitchenAid Classic Measuring Spoons for $3.97. I love the color.
If you need some extra help with organization in your pantry you can get a Non-Skid 3-Tier Pantry Kitchen or Cabinet Organizer for $6.99.
Books
Speaking of Disney, you can get a great price on the Disney Frozen 2 Look and Find Activity Book, it's only $5.00 (reg $10.99). The Secret Life of Pets 2 Look and Find Activity Book is also priced at $5.00 (reg $10.99).
The brand new Awesome Friendly Adventure is 40% off and priced at $9 (reg $13.99). I picked this up for my daughter to add to her book collection!
The FORTNITE (Official): How to Draw Book would be fun for kids that love to draw. Get this for $3.81.
This I Wrote a Book About You is a fun, fill-in-the-blank book that looks really neat. It's marked down to $9.29 (reg $14.95).
You an save 30% on the Beautiful Boards: 50 Amazing Snack Boards for Any Occasion, it' $17.49 (reg $) and includes 50 family-friendly and easy ideas for awesome and fun snack boards.
If you have little ones at home this 10 Week-by-Week Sight Word Packets would be great! Get this for $6.13.
The popular Little Leaders: Bold Women in Black History is nearly 60% off and only $6.90 (reg $16.99).
This 3 Minute Gratitude Journal for Kids:Journal to Teach Children to Practice Gratitude and Mindfulness would be great to pick up! This teaches kids how to express their feelings and to be thankful for what they have in life! Get this for $6.99.
WOW!! There is a sweet price on the Diary of an Awesome Friendly Kid, it's only $5.74 (reg $13.99). I bought this for my daughter and she really enjoyed it!
This really cool Hidden Creatures: Scratch Magic (J.K. Rowling's Wizarding World) (Harry Potter) Art Book will keep your kids busy. It's marked down to $6.97 (reg $12.95) and includes lots of drawing and coloring activities.
There is a great price on the Fashion Angels 1000+ Ridiculously Cute Stickers Book, it's $4.99 (reg $8.99).
Office & School Supplies
If your kids are starting out the school year at home, these Dry Erase Pocket Sleeves look like they would be great. Get a pack of 6 for $8.95.
If your kids are starting the school year virtually you can get a sweet deal on writing supplies. Save $10 when you spend $25 on Sharpie, Expo, Paper Mate and more. This deal is valid for a limited time.
If you need to get organized, you can get a 8-pack of Interlocking Storage Bins for $11.81. These handy bins get over 3,000 reviews and you can mix and match these bins to fit any drawer in your home.
Speaking of getting organized, this 24 Pocket Expanding File Folder would be perfect in an office. It's $14.97 and will expand to fit your needs.
Groery
Grab a 3-pack of Simple Mills Almond Flour Pumpkin Brad Mix for $9.97 when you use Subscribe and Save. This sounds delicious!
You can pick up a big 40-pack of Kellogg's Fruity Snacks for $5.59 (w/S&S). My kids love these!
Another snack option you can get is a big 30-pack of Nabisco Team Favorites Variety Pack, pick this up for $6.00 when you opt for Subscribe and Save.
Health & Beauty
Clip the 20% off coupon to get a set of 6 Cliganic USDA Organic Lip Balms for $6.39. I bought this set for my daughter a while back and she loves them!
Grab a 2-pack of Satin Care Ultra Sensitive Shave Gel for $2.80 when you apply the $.58 coupon and use Subscribe and Save.
You can get a Makeup Sponge Blender Set for $5.77. This includes 3 blending sponges and a cute holder.
Clip the $.83 coupon to get a bottle of OGX Nourishing Coconut Milk Weightless Hydrating Oil Mist for $5.92.
Get a bottle of Alba Botanica Cool Sport Refreshing Clear Spray SPF 50 Sunscreen for $6.36 when you opt for Subscribe and Save.
Household
Clip the $1.00 coupon to get this Broom Holder and Garden Tool Organizer for $16.97. This gets lots of great reviews!
If you are in need of an alarm clock, I just bought this Digital Alarm Clock for my son. We are totally impressed with how awesome it is. We aren't the only ones, it has over 11,000 reviews!
Toys & Games
If you are fan of Nightmare Before Christmas, you can pre-order the Funko Games: Something Wild Card Game for $7.95. This will be released on August 15th.