We may earn money or products from the companies mentioned in this post.
Some affiliate links are used in this post, if you make a purchase I may earn a small commission.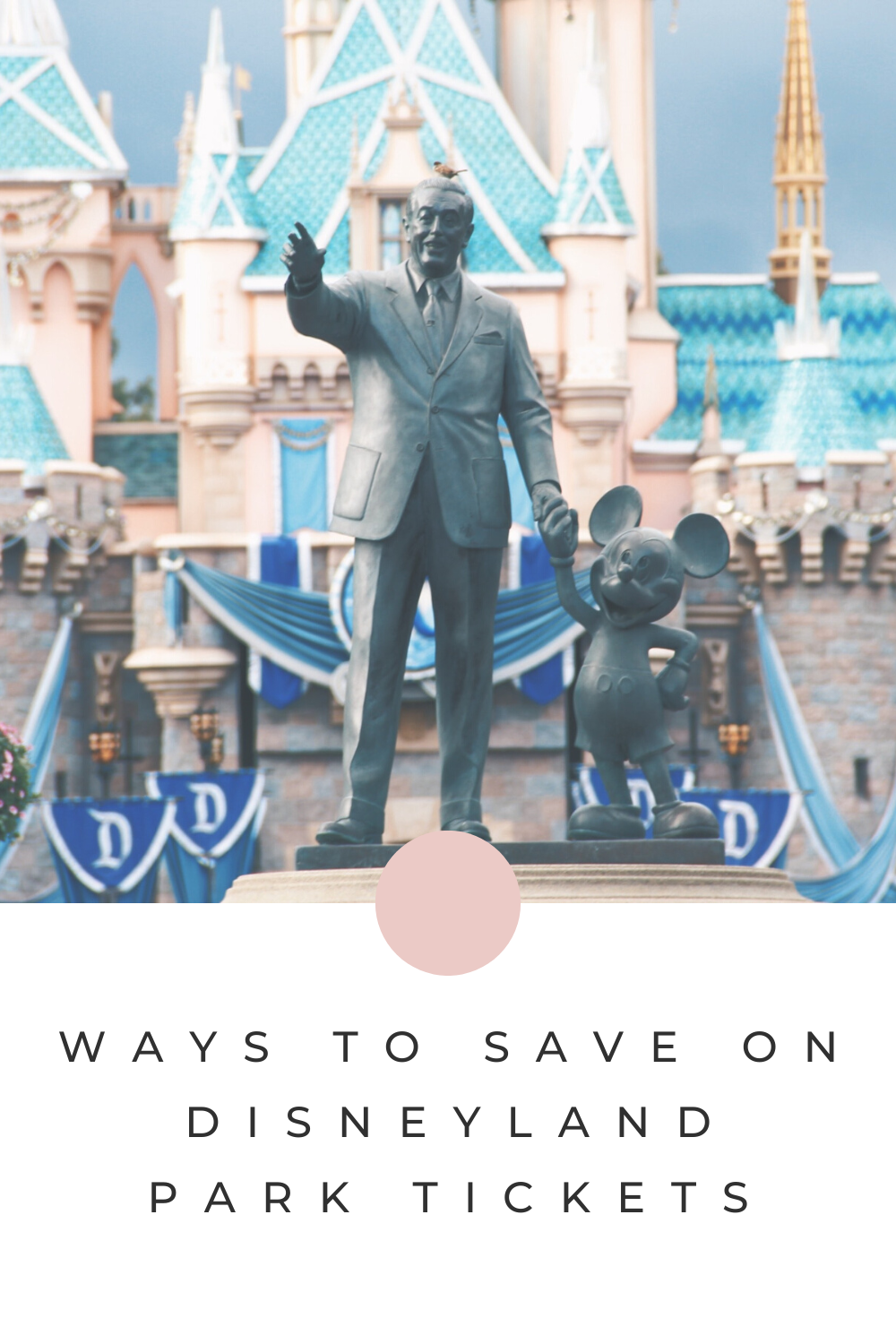 You won't find huge discounts on a trip to Disneyland, but I am sharing some ways you can save on your Disneyland tickets! Some are straight forward discounts and others are more creative, but they all will save you some money. First, make sure you only buy the type of tickets you need. If you are unsure if you will use a 4-day Park Hopper, just buy the 3-Day Park Hopper. You can always add an additional day before the park closes on the last day of your 3-day ticket. You can also save money by choosing one park per day tickets over Park Hoppers. If we have a 2-day trip planned we will just buy two of the one park per day tickets and spend one full day at each park. This option saves us $45 per ticket. Here are a number of ways to save on Disneyland tickets. We will keep this post updated as new deals pop up.

Get Away Today – You can buy discounted tickets to Disneyland every day through Get Away Today. This is a reputable company that I have personally used more than 10 times and I have always been pleased with the service. You can purchase individual tickets or a package deal that includes tickets and a hotel. I have found that the Get Away Today vacation packages often beat the prices of booking your hotel and buying tickets individually. You can save an extra $10 off the low package price by using the discount code THRIVING10 at checkout.

Costco – You can book a package deal through Costco Travel that may save you money on a hotel/Disneyland ticket combo. The Disneyland Costco packages usually contain extras like a Disney gift card and pins and lanyards. Also, when booking through Costco travel you can pay with your Disney Visa Rewards or a Disney Gift Card.

Disney Visa – If you sign up for the Disney Visa you will earn points for every dollar you spend. You can then use those points to purchase Disney tickets (or hotel stays, food, souvenirs or more). In addition to earning points to spend at Disney, they had an offer where you will get a FREE $200 Disney gift card if you open and account and spend $500 within the first 3 months. We did this offer for both my husband and myself several years ago and it gave us a free $400 to put towards our Disneyland tickets. The Disney points may not save you money right away but it is a great way to save up for a future Disney trip. (This method will only save you money if you pay off your balance in full every month. You do not want to carry a balance on the card) The current Disney Rewards Visa offer is a $300 statement credit for the Premier Visa & a $150 credit for the no-annual fee Disney Visa.

Target REDcard – Target sells Disneyland Park tickets, so you can purchase your Disneyland tickets via Target.com and save 5% with your REDcard. They sell both Disneyland one-park per day tickets and Disneyland Park Hoppers. You will also have the option to buy with or without Genie+. You can also save 5% on Disney gift cards if you use your REDcard which can save you money on park tickets or your food or souvenirs.
Military Discount – Active and retired U.S. military personnel can purchase Military Promotional 3-Day and 4-Day Disneyland Park Hopper Tickets. Contact your participating U.S. military base ticket office for all the details.

Consider an Annual Pass – If you visit Disneyland on a yearly basis (or more often) an annual pass might be a way you can save money. In addition to admission to the parks you can also get discounts on food and merchandise. We occasionally buy one annual pass because with the additional discounts it is worth it to buy it for one person. My husband usually get the annual pass and then the dining & merchandise discounts can be used for our entire family.
Here is an example of the thought process on how we decided to get a pass (I used regular discounted rates from Get Away Today, because that is the price we would have paid, not the prices at the gates). Please note pass prices have gone up, but this is still the method you would use when deciding on an annual pass, just use current prices.
We had a trip planned for October (cost of 3-day Park Hopper = $310)
We had a couple only trip planned for Disneyland the following year in April (this trip was getting tacked onto a business trip my husband had in California (cost of 2 One-Park a day ticket = $197)
We had a trip planned the following year in August (cost of 3-day Park Hopper = $310)
The cost of a Disney Signature Passport was $849 and the cost of all the admissions we had planned was $817. We were just $32 shy of breaking even on the Disneyland park tickets. This pass offers 15% discount on dining and a 20% discount on merchandise so we knew we would be able to save that extra $32 over the course of the year. This is the reason why we only buy a pass for one family member, it usually is for my husband because he is the one with business trips to California. In addition to savings from Disney, there are some Good Neighbor hotels that also offer a discount if you are an annual passholder. Just something to consider.
In the past we have also purchased the Disney Premier Passport which offers admission to both Disneyland and Disney World. It was much cheaper when we first purchased it, but if you plan to visit both Disney Parks in the same year it might be a good option. The pass for Disney World does not offer as many dining discounts, but it does offer the merchandise discounts and even admission to the water parks and more.
I'd love to hear if you have ways that you save money on Disneyland tickets.

Disneyland is one of our favorite vacation destinations, you can check out our complete guide to the newly reimagined Pixar Pier. If you have a trip planned this year make sure you check out our other Disney posts too: